Power Protocol
Mastering Business Etiquette
---
3-hour interactive seminar
"I would highly recommend Kay to help your organization or business learn proper etiquette. You will notice your employees' self-confidence in professional settings and business events. Your associates will appreciate the time and money you invest in them to present a professional image."

–M. Sullivan, Business Development Manager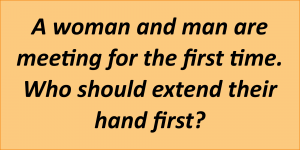 When all else is equal, solid business manners can tip the scales in your company's favor. So why risk leaving proper business etiquette up to chance? Give employees the knowledge and confidence to improve their business interactions, leading to more persuasive business meetings, one-on-one conversations, sales activities, and more.
Topics are customized around client needs and goals, and may include:
First impressions in business
Why business etiquette?
Handshakes, introductions, and remembering names
Business card exchange
Nonverbal communication
Networking and cocktail events
"Words to use" and "Words to lose"
Conversation skills
Visiting a client's office
Receiving visitors (at doors, elevators, in office)
Hi-tech etiquette
Planning meetings, meeting protocol, and conference calls
Cubicle etiquette
Car, taxi, and limo etiquette
Travel and tipping etiquette
Don't let awkward introductions, weak handshakes, or etiquette faux pas leave a negative impression!