Personal Image Services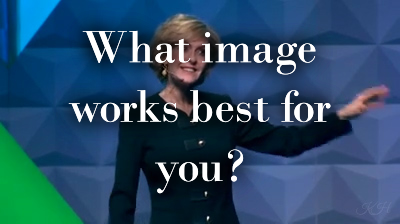 The First Step to a New You
The quickest way to start building your best impact! Learn what your image is saying about you, and get recommendations to strategically shape your message to maximize success. Take away the recommendations you need to see immediate results in your personal and professional life.
Personal Brand Assessment: When people first meet you, how would you like them to respond to you? Use your personal and professional goals to build the first—and lasting—impression that's right for you. Find out how to turn minor changes into big results.
Color Analysis: Make an impact with color! Discover your personal color palette as you see which colors work on you and which don't. See how dressing to your color palette enhances your facial features, maximizes your wardrobe dollars, heightens your confidence, and attracts success. Steer great wardrobe choices with a take-home fabric palette representing your best colors.
Mini Closet Audit: Get valuable feedback about your existing wardrobe. Wear an outfit you would like to evaluate, and bring several other ensembles to discuss, including shoes and accessories.
Hairstyle and Color Assessment: Discover the ideal haircut and color to suit your specific hair type, personal style, goals, and lifestyle. Includes facial hair for you gentlemen.
Makeup Review (Women): Audit your makeup bag! Explore the cosmetics colors and products that best complement your personal style. Features selections from the high-performing and healthy Beautycounter line that are just right for your skin type, coloring, and personal brand.
Skincare Review (Men): Discover the keys to better skin, a smoother shave, and softer facial hair! Explore selections tailored to your needs.
Increase your impact with these add-on sessions:
Non-Verbal Communication Techniques (Add-On): Take an even bigger first step to learn what your actions are saying about you! Learn to communicate more persuasively without saying a word.
Personal Office Consultation (Add-On): maximize your image's impact with a session all about your workspace. Explore your office from artwork to furniture and from layout to wall colors to ensure your workspace says the right things about you. Consultation can be conducted in person or via video or photos.
Just for Men
Men who strategically enhance their social presence and appearance can maximize their potential and invite greater success for themselves and their loved ones. But having an image consultation is new territory for a lot of men. My male clients are often surprised by what they don't know, but thought they did. Scheduling time with me means you'll learn what you can improve and exactly how to do it.
Knowledge you'll gain when you Take the First Step
Style: The way you dress communicates who you are to the world. You can choose the message you send. How will you present your best? Style recommendations are based around your coloring, body proportions, lifestyle, and goals. Putting together your look isn't fashion, it's science.
Grooming: The clothes matter, but the man underneath is even more important. You'll receive hairstyle and facial hair suggestions, skincare tips, product options, and more, all based on your unique needs.
Social: You want to connect with people. Your image can help you make the right impression every time. From dating profiles, to romantic outings, to high-profile events, you'll learn how to present your best both on- and offline.
Be the total package that maximizes your potential and increases your success!
Personal Shopping Orange County
Let's craft the core wardrobe that saves you time and money, fits and flatters you, and that maximizes your chances of success wherever life takes you. I'll choose functional pieces for your coloring, body proportion, and goals, that complement your current wardrobe and highlight your style. All ensembles are preselected and coordinated before your session—you simply try everything on and look terrific!
Make the most of your new wardrobe with this add-on session:
Wardrobe Debriefing (Add-On): Say good-bye to taking 20 minutes to get dressed in the morning! This 2-hour add-on session coordinates your new wardrobe pieces with your existing clothes. Your new items will be seamlessly organized into your closet for easy outfit coordination. You'll also receive pictures of additional ensembles to help you plan for the future.
Closet Audit & Wardrobe Consultation
What gems lurk in your closet and what should be donated immediately? Take the stress out of everyday dress by keeping only the items that best flatter your body type, style, and goals—no more worrying about a closet full of clothes and nothing to wear! You'll discover new ensembles in your closet, with complementary pairings you might not have thought to put together. Round out your wardrobe with a custom shopping list that details the items you're missing.
Hair Consultation
We've all had an unflattering hairstyle, and it's no wonder when success means guessing which magazine model's hairstyle would look best on you! Skip the guesswork with an informed recommendation for the ideal haircut and color to suit your specific hair type, personal style, goals, and lifestyle. Then it's off to a trusted hairstylist to await the magic! After all, you're never fully dressed without great hair.
Makeup Consultation
Are your makeup colors and techniques showing your best features? Join me and my trusted makeup artist for a hands-on session in the makeup choices that will enhance your facial features and complement your personal style. And then let's make over your makeup bag with selections from the high-performing and healthy Beautycounter line that are just right for your skin type, coloring, and personal brand. Just think of me as your personal shopper for makeup!
Travel Wardrobes
Skip worrying if you've packed too much or not enough, or if you've prepared for every occasion. From a family vacation in Hawaii to a conference in Brazil, I can help you pack smart and look your best, without the stress.
Vacation Travel Wardrobes: You'll be smartly (and lightly!) packed with a travel capsule wardrobe that prepares you for whatever comes your way. Versatile packing at its finest lets you save time, save money, and savor the moments, stress free.
Business Travel Wardrobes: Make your best impact when you travel for business, as part of the winning personal brand that maximizes your success. You'll receive a variety of "on brand" outfits to make your best impression at any occasion, whether you're negotiating with the gate attendant, presenting to a conference hall, or sharing drinks with colleagues. You'll blend seamlessly with local customs and climates with a smartly and stylishly packed wardrobe that's ready for anything.
"As a result of Kay's advice, I have noticed a difference in how I feel and how I look. She helped me find colors that bring out the best in me, and taught me how to dress strategically to best communicate my brand message. It is amazing what a difference each pattern, color, or style design makes in how people perceive our presence. Plus I save money because I understand what to buy and not buy."

–R. Foland, Assistant Director