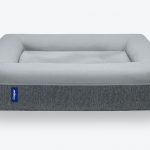 Casper Dog Bed – This bed is light, study, and wonderfully washable! We have had other much more expensive beds, and this one is great. The best thing about this bed is using it for the "place" command. It is easy to move around the house and take to my parents' home for our weekly visit.
Available at Casper – $129–$229 depending on dog size.

Scotch-Brite Pet Extra Sticky Hair Lint Roller – Easily removes pet hair from clothes and furniture. Keep one in your house, car, and office for maximum pet-hair removal!
Available at Amazon – 95 sheets for $5