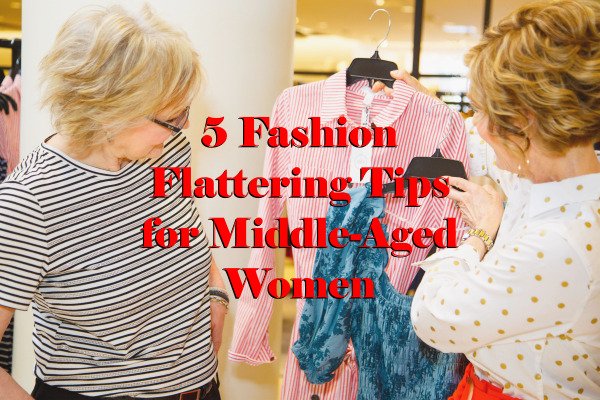 As women age, it can be hard to keep up with all of the crazy changes happening to our bodies. Trust me, I understand completely how hard it is to keep up with it all! Women focus on hiding what is drooping or dragging, often at the expense of fit and style. We forget to accentuate the positive because we're so worried about what doesn't look the way it did in our 20s or 30s. But we don't have to resign ourselves to muumuus just yet!
Here are five easy tips middle-aged women can use to look stylish and age appropriate.
Fashion Flattering Tips for Middle-Aged Women
Find a Good Tailor
Great fit is your friend, and it's the key to looking polished and put together, whatever changes we face. Choose clothes that fit the largest part of your body, and then ask a tailor to adjust the rest of the garment. Beloved gems in your existing wardrobe can be often be refreshed with some alterations.
Accentuate With Accessories
Accessories are a fun way to express yourself without worrying about fit. But not too many accessories! (Don't be the lady with twenty bracelets on each wrist or a ring on every finger, like you're wearing every piece you own.) Invest in some "you" statement pieces that can dress up any outfit.
Smooth Lines With Shapewear
Lumps and bumps can happen at any age. Fortunately modern shapewear like Spanx, Maidenform, and Bali is amazingly soft and comfortable, versatile, and works great to streamline your shape and make you appear slimmer and taller. Determine your smoothing needs—back fat, cellulite, belly—and find the best piece for your lifestyle. This isn't your grandma's girdle!
Get a Great Bra
A "less perky" chest is one of the most noticeable images of aging, since it's right there on the front of your body. But a great-fitting new bra can give you a little lift and shape! A higher chest opens up your mid-torso, making you look slimmer and refreshed. Get a professional bra fitting—they're free at stores like Nordstrom and Victoria's Secret—and will help you choose the size and style to best complement your body.
Update Your Hairstyle
As we age, our hair changes, too. And not just turning gray—it can get rougher, thinner, shorter, finer, and more brittle. So the hairstyle and color that worked on you years ago may not be flattering or fashionable today. But you don't have to go gray or cut it all off. You'll feel most confident in the haircut best suited to your face shape, and you can look stunning with silver, white, or salt-and-pepper locks. You also have a variety of coloring options, like reverse highlights or permanent dyes. Covering gray automatically takes years off your image, reflects color on to your face, and makes your eye color pop, making you appear fresher and more youthful. And if you need help choosing, consider my Hair Consultation & Transformation.
---
About Kay
I'm Kay Hunter, Orange County image consultant for men and women over 40. I transform mature professionals, active adults, and seniors into more successful and confident versions of themselves. By expressing yourself through style and fashion, you'll get that boost of confidence, visibility, and value you need to get to the next level. Enhance the joy of living—because great style is ageless!