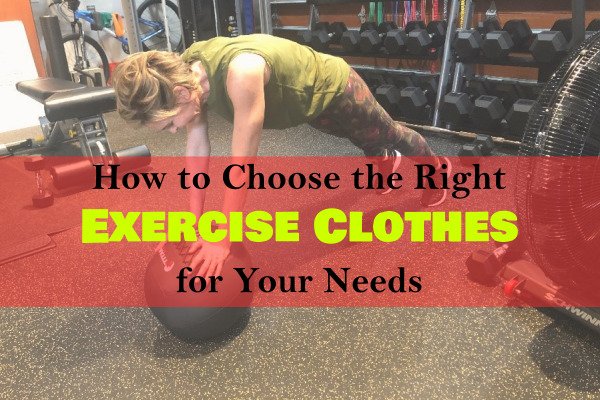 With more stay-at-home activities, we want to be comfortable, and health has become just about everyone's top priority these days. So I love that exercise clothing has become a regular part of our wardrobe, whether you exercise or not! Realistically, athleisure was popular before the pandemic began, and now it is even more on point. This being said, knowing the difference between activewear (exercise gear) and athleisure is important. I know many of us might never get out of our exercise gear all day! (Yes, I personally know this is easy to do.) Whether your New Year's resolution was to achieve a cleaner diet, lose 10 pounds, be more active, or to just be more comfortable during the day, I am here to help sort out the various options available for your more active lifestyle.
What Exercise Clothes Do You Need?
First, let's start with the key distinction between "activewear" and "athleisure" clothing. Activewear is clothing designed to be worn for sports, exercise, and outdoor activities. It's what you wear to the gym, to your yoga class, or on your morning run. Its primary purpose is functionality. Athleisure is clothing born out of compromise. It lies at the intersection of activewear and traditional sportswear, and is meant as recreational wear designed for daytime or leisure activity, such as running errands, casual dining, traveling, and so on. It has evolved a streetwear style that keeps you going all day long, looking fresh and stylish. Leggings and sport bras do not fall into this category. But add a cute top and combat boots, and you can have a great look!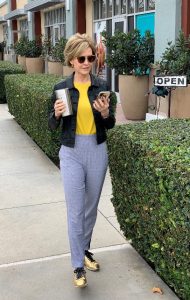 Types of Exercise Clothes
Activewear selections depend on your activity of choice and what you need the clothing to provide: perspiration wicking, non-chafing, no-slipping, warmth, and so on.
Athleisure: Casual, comfortable clothing designed to be suitable for both exercise and everyday wear. Also great for traveling.
Working out or training: The type of material you wear to the gym should allow you to feel dry, comfortable, and confident. You will be moving around and bending often while exercising, so your clothes should allow for flexibility. Clothing made of synthetic material such as nylon, acrylic, or polypropylene provide a good balance of functionality and comfort.
Hiking and trails: What not to wear may be the most important fact here—no denim or cotton fabrics. Cotton is a hydrophilic fabric, which means it absorbs water, making this one of the most common fabrics to avoid when choosing hiking clothes. When cotton receives moisture, it absorbs and takes hours to dry (hello, chafing!). Layers are key when hiking. Chances are, you'll start off in cooler weather, warm up as the hike climbs, and cool down as you descend.
Yoga: Yoga calls for breathable, flexible bottoms like yoga pants or shorts, and an equally breathable, narrow- or form-fitting top that won't hang over your head when you are upside down. For women, try a sports bra or built-in shelf bra that offers enough support for the type of yoga you're practicing, then a comfortable, warm top layer for when you have cooled down at the end of class.
Lounging: Loungewear are casual clothes suitable for relaxing and laying around at home. (Contrast with athleisure, which you can safely wear outside your home.)
Key Activewear & Athleisure Trends for 2021
Triple Duty – Work, Gym, Home!: While the business suit still dominates professions like finance and law, "casual Friday" became "casual Monday through Friday" when most of us started working from home. People want their activewear to be very versatile.
Longline Sports Bras: It used to be that you could tell a sports bra from a fitted crop top. But with the growth of athleisure and people working from home, the lines have blurred. Longline bras offer more coverage than your typical sports bra, and can be worn with high-waisted leggings or joggers. They come in varieties including padded and non-padded; racerback; low impact, medium impact, and high impact; compression; seamless; with underwire and without; encapsulation; and crisscrossed-back styling.
Ultra-High Waisted Leggings: In 2021, expect to see not just more high-waisted leggings, but also ultra high–waisted leggings. They provide core support and tummy control, as well as more modesty when paired with a longline bra or crop top. Ultra high–waisted leggings are also easier to pair with street clothes. Throw on a jean jacket or puffer vest for a going-out look, plus boots and a hat, and you're ready to go. During the winter, you can include gloves and a scarf, and all of a sudden, you'll look very put together!

Athleta High-Waisted Leggings: $89

Seamless Activewear: Seams can be itchy. They can catch on to things. They can chafe your skin. Seamless doesn't mean there are no seams; instead, it's the production of merchandise in a circular pattern that reduces the need for seams.

Lululemon: $148

Beyond Solid Black: While some women who are new to sports bras and leggings may continue to feel most comfortable in black and solids, patterns like camouflage, animal prints, and herringbone will catch the eye of women looking for something new (yeah!).

Athleta: $70

High-Performance Fabrics: Moisture-wicking products will become more of an expectation. Companies will focus on developing and distributing fabrics that inhibit the production and growth of microbes.
Matching Sets: For those of you who are tired of figuring out mix-and-match sets, matching sets are in again!

Reflectiveness: No more running with the phone light on or with headlights and body lights. More activewear brands are developing products with reflective capabilities built into the fabrics, limiting the need for accessory reflectors and lights.
Cost: While the cost of some of these products may initially be higher than the typical cost associated with a pair of leggings, the trend toward high-performance activewear will only increase in 2021.
Activewear Tips & Tricks
Quality: As with most clothes, buy the best you can—it will pay off in the end. Especially with activewear, I have found over and over that you get what you pay for when it comes to quality. I do buy activewear at such stores as Target, but I just know the garment will not hold up like higher level brands such as Lululemon and Athleta.
Caring for Activewear: How you care for your activewear can definitely lengthen the life of your items. When I refer to high-performance activewear, I am referring to those stretchy fabrics that are designed to keep you cool during exertion by wicking moisture away from the body. Since the fabric repels moisture, it's tougher to get them clean and fragrant in the wash. Care tips include:
Wash after every use
Soak clothes for 15–30 minutes in one part distilled white vinegar to four parts cold water before washing
Wash items inside out
Use the correct amount of detergent (using more will not help smell or buildup); for stubborn smells, try a sportswear-specific laundry detergent such as Hex Performance or Nathan Power Wash that is designed to clean moisture-wicking synthetic materials, otherwise use a laundry soap for delicates
Wash in cold water on the gentle cycle
Air-dry when possible, or dry on very low heat
Never add liquid fabric softener, which will only lock in soil, bacteria, and odors, and can break down the stretchy fibers
When to Throw Away Your Exercise Pants: Conduct the see-through test! The moon may be lovely outside your yoga studio, but you don't want to bring the moon inside during your downward-dog pose. Exercise pants do wear out! Try them on, bend over, and look between your legs into a mirror. If you can see your underwear or butt crack, throw them away! This test should be conducted regularly!