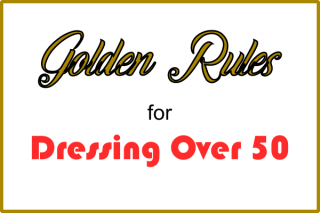 How can we mature women look our best and avoid the most common fashion mistakes over 50?
The biggest fashion mistake women over 50 make
As we women age, our bodies tend to expand (particularly around the middle), which makes us run for larger, looser clothes. It's no wonder many mature women struggle to outfit our changing bodies! The problem is, it's rarely about buying a larger size; it's about finding a better fit.
Outfits to camouflage a belly
Great fit. You do not want to camouflage a belly with your husband's T-shirt, because big clothes only make an area look bigger. If you've got a tummy, stay away from clingy knits that even a 16-year-old would have trouble pulling off. Your clothes should skim your body, not cling to it! Also remember, the bottom of your shirts should come in at the bottom, not just hang loosely. Try skinny jeans with a flowing top, or a closer-fitting top with a cute jacket or fitted blazer. Avoid anything that pulls, because that's exactly where people's eyes will go.
Dresses. Dresses can be an easy way to flatter your body with just one article of clothing. Most women look best with skirt lengths that fall to mid-knee, at the narrowest part. This length can also make petite women look taller! A sheath dress can create a long, lean silhouette—just be sure to size it to fit your largest area (chest, tummy, or rear), and then tailor it down. Maxi dresses can work, too, as they tend to be forgiving in the middle. A loose maxi dress can be pulled together and elevated with a structured jacket or vest.
How to choose a pattern
Patterns can be tricky, but they are great for leading the eye to our best features, so don't be scared of them! Choose patterns based on your body proportions. A petite woman will get lost in a large, loud print; a larger woman will look "swarmed" in a small, tight pattern. Stripes are often a good camouflaging option, as they distract the eye.
Accessorize to your advantage
Scarves. They are wonderful camouflaging tools, as they create a vertical line down the center of your body. Scarves can be used in every season: heavier, knit scarves (but not too bulky!) for cooler months, and lighter, airier scarves for warmer months.
Jewelry. Unlike scarves, jewelry can be a tricky accessory to get right. You want to own a handful of bold, signature pieces that will reflect your personal brand and become a highlight of your outfits. Avoid wearing 25 bracelets or a ring on each finger, which will make you look dated (or at best, indecisive). Long necklaces will draw attention down toward your belly, so be careful of length if that's an area you'd like to camouflage. Necklaces should always hit above the center of your chest.
---
About Kay
I'm Kay Hunter, Orange County image consultant for men and women over 40. I transform mature professionals, active adults, and seniors into more successful and confident versions of themselves. By expressing yourself through style and fashion, you'll get that boost of confidence, visibility, and value you need to get to the next level. Enhance the joy of living—because great style is ageless!