A flawless footwear transition from summer to fall: BOOTIES!
My clients are always searching for those key "transitional" pieces they can buy in the summer and use into the cooler months ahead. Booties are a great solution for this dilemma. A great pair of booties will freshen up your fall wardrobe but you can also enjoy them right now!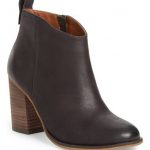 For Women: Ankle Boot – Ladies' booties are one of the most useful and comfortable footwear options, whether it be summer or winter. Right now, they are adorable paired with a vintage summer dress or denim skirt, and in the winter, they work great with leggings, dresses, and rolled-up jeans. Pictured is the Lance Block Heel Bootie in black burnished leather, available at Nordstrom – $99.95.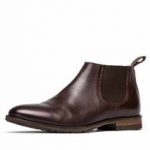 For Men: Chelsea Boot – Men's boots can be dressed up or down and are so versatile. Select black or brown depending on the look you want to achieve; black will typically look dressier. Depending on the style you select, they can be worn with your favorite blue jeans, to business casual, to even professional looks. Pictured is the Logan Terrace Chelsea Boot in chocolate, available at Nordstrom – $198.