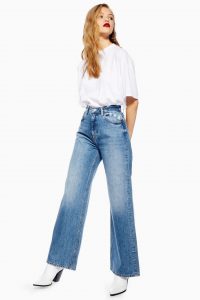 Baggy Wide Leg Jeans – Yes, this style is beloved by many of my clients and it is back in style! What's so great about these jeans? They can be chic and casual at the same time, and are perfect for casual Fridays and the transition to Happy Hour. Best worn with a shirt or T-shirt tucked in to show off your waistline (no muffin top with the high waist!), and a pair of ankle boots with at least a small heel.
Available at Topshop – $90.
Counterman Skin Care Collection – Hello, Counterman, Beautycounter's new line of cleaner, results-driven skin care for men's unique skin and facial hair—because men deserve great skin too! Now men can clean deeper, groom safer, and protect their skin from environmental stress, beginning with this collection's innovative Sequoia Stem Cell Complex. Of course, I got a collection for my husband to try, and he loved the clean scent of the soap and was nicely surprised to see the gray color of the liquid body soap; easier to see where it is on your skin!
Available at Beautycounter – $188 for the entire collection (don't miss this introductory deal—the set normally sells for $209), or each product is available separately.
Questions about this or any other of my favorite Beautycounter products? Get in touch!