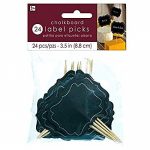 Amscan Chalkboard Picks – A super inexpensive must-have party accessory! I use these picks to label my appetizers, especially the cheese options. You will also want to have a chalk marker to go with it!
Chalk picks available at Amazon – $5 for 24.
Chalk marker available at Amazon – $7.
Holiday Beautycounter: Feel-Good Gifts – Give presents that matter this holiday season! Beautycounter's newest collection of cleaner, safer, and joyfully luxe products are designed to make you and your loved ones (or beloved colleagues) look good and feel good, inside and out!
Some of my favorites for the family, and maybe a treat for yourself? Check out the Counterman Travel Set ($45), Holiday Hand Cream Trio ($30), the Welcome Baby Gift Set ($65), and Glow & Go Mini Oils ($30).
All products available at Beautycounter.
Questions about this or any other of my favorite Beautycounter products? Get in touch!