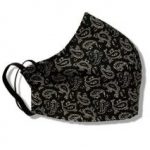 Egyptian Cotton Face Mask – I have worked with Trent Clark at Upper Echelon for years as the custom tailor for my clients who want custom clothing. When the pandemic hit, Trent's craftsmen started making Egyptian cotton face masks that are safe and fashionable. I love the option of being able to get matching pocket squares or even shirts to match or coordinate with your mask: just inquire with Trent to create a custom order, which ships free for a limited time.
Available at Upper Echelon – $15.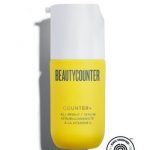 NEW: Counter+ All Bright C Serum – We all need a little brightening up right now, and this is what we have been waiting for! Using a Vitamin C serum is key to achieving the best skin possible, so brighten up with this game-changing serum! An ultra-potent 10-percent blend of two forms of vitamin C instantly brightens skin and helps reduce the appearance of existing dark spots, while antioxidant-rich turmeric and camu camu extracts help protect against new ones. The formula also helps defend skin from the damaging effects of environmental stressors, revealing a more youthful-looking complexion.
Available at Beautycounter – $79.
Questions about this or any other of my favorite Beautycounter products? Get in touch!