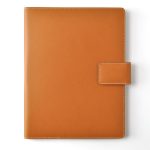 Jenni Bick Italian Leather Executive Portfolio – A notepad in an attractive portfolio is an effective way to take notes without distracting people the way a smartphone or laptop might, plus you get another accessory to showcase your professional presence! This one has nice clean lines and is handmade from matte bonded leather. There's also a slot to hold a letter-size notepad, a tab for your pen, and flap pockets to hold loose documents and business cards. The snap closure keeps everything safe and secure.
Available at Jenni Bick – $60.
Beautycounter Transforming Duo – The perfect pairing for the chic lady on your list—and maybe a treat for yourself! The flattering Transforming Lip Tint instantly delivers the ideal shade of sheer, customized pink color; the Crystal Gloss provides high-impact clear shine for a flawless finish. Both are infused with a sophisticated hint of natural vanilla. As a bonus, this dynamic duo arrives in a festive red box for effortless holiday gifting.
Available at Beautycounter – $30.
Questions about this or any other of my favorite Beautycounter products? Get in touch!