What comes to mind when you hear the word "shapewear"? If you think of a boned corset, control-top pantyhose, or your grandma's girdle, it's time to travel to the twenty-first century for a look at modern-day shapewear, which has come a long way even in the last five years. Just look at brands like Spanx, earning an estimated $400 million in annual sales, and Kim Kardashian West's new SKIMS Solutionwear, which sold $2 million in product within minutes of its launch (and it's now available at Nordstrom).
So why the sudden popularity? No longer is shapewear worn only to look thinner, and no longer is it insufferably uncomfortable. Wearing the right shapewear can help you gain confidence with better draping clothes, and can actually make you feel more comfortable and better supported. As your body matures and changes, shapewear can become a trusted friend to make you feel great.
But where to begin? The best shapewear for each woman depends on her wardrobe. (Men, I've got you covered here!)
Not Your Grandma's Shapewear
Camisoles
You probably won't need a full bodysuit under your T-shirt and jeans. A simple, seamless camisole can make a big difference in how your top drapes on your frame. It can also give you some extra coverage around your waist (great for hiding bulges from pants buttons) and chest, and under semi-sheer or lightweight tops. Shapewear is also a great underlayer to protect our skin from those scratchy but oh-so-cute winter sweaters. The specific style pictured is great because it can be worn as shown with a V-neck or turned around for a higher, squared style.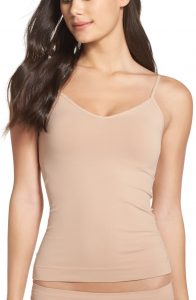 Shaping Panties
A pair of smoothing, seamless, high-waisted underwear lightly shapes your body in breathable comfort, and takes care of that unsightly panty line. They also prevent those painful lines and dents in your tummy from the seams and buttons of your pants.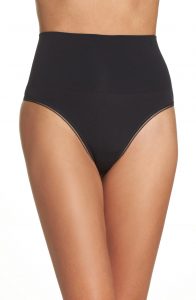 An even higher waisted panty like this one from Spanx can simultaneously smooth the tummy.
Mid-Thigh Bodysuit
Many women call on a shaping bodysuit as their ultimate dress-up secret. A bodysuit provides smoothing, slimming, and support through the chest, tummy, bum, and thighs, to enhance your body's natural shape under a variety of outfits. Great for dresses and special occasions.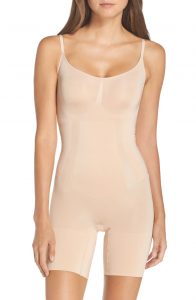 Shaping Shorts
A great pair of shaping shorts can smooth and shape under skirts when you want to show your bare legs. They're so easy and practical, you can wear them when riding a bike or sitting on a park bench.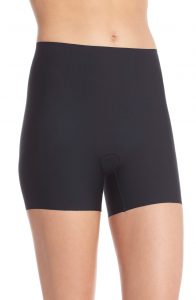 Shaping Tights
As we move into cooler weather for fall and winter, we can use tights to keep warm in dresses and skirts (and add great leg continuity between skirts and boots or booties!). I like these tights not for the control but because they stay up and don't ride down like many other varieties. The pictured tights come from a budget-friendly collection from Spanx that offers amazing smoothing and shaping benefits in a classic look.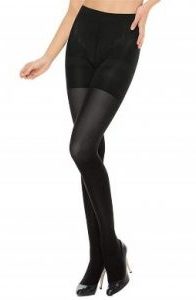 Men's shapewear gives benefits for common needs such as compressing abs and torso, to improving back posture, to enhancing the bum. And there are lots of options these days—just Google "Men's Shapewear"! The undershirt is still the most popular piece of shapewear for men, closely followed by underpants that add a padded technology to round out or lift the bum.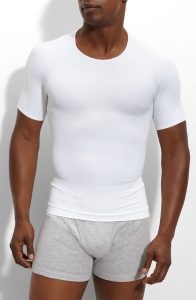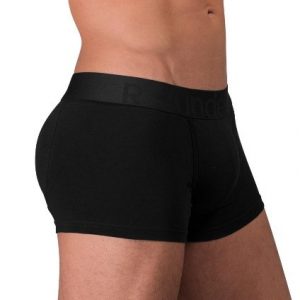 With all the varieties of shapewear on the market today, it's easy to find pieces that are great for your unique needs. And remember, shapewear is not just about looking thinner, it's about feeling more confident and comfortable!
---
About Kay
I'm Kay Hunter, Orange County image consultant for men and women over 40. I transform mature professionals, active adults, and seniors into more successful and confident versions of themselves. By expressing yourself through style and fashion, you'll get that boost of confidence, visibility, and value you need to get to the next level. Enhance the joy of living—because great style is ageless!