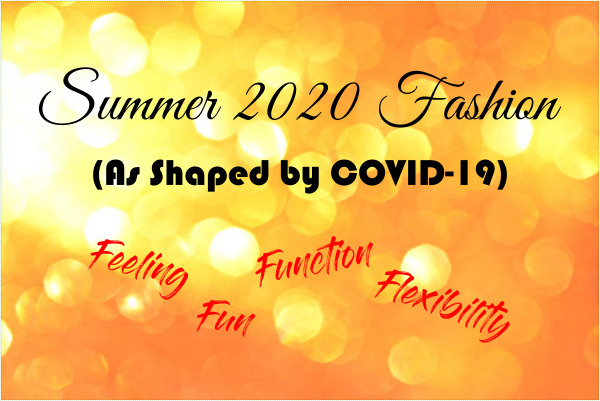 No matter how you slice it, 2020 has been a challenging year, to say the least! We have been at home for over three months, and our communities are finally starting to open up (and close again!). Maybe you've gotten comfortable dipping your toes in the changed face of socializing, shopping, dining, and traveling, but what about the changed face of fashion? Oh we have definitely been comfortable in our leggings and athletic shorts, but I'm talking about the new "going outside" fashion for Summer 2020. Designers have taken the opportunity to create a feeling of renewal through clothing, shaped by consumers' pandemic-time health, emotions, lifestyles, and budgets.
So since summer has crept up on us quickly this year, and with our desire to connect and explore in high gear, let's distract ourselves and look at some great 2020 summer fashion trends!
Summer Fashion 2020 as Shaped by COVID-19
Women's Summer 2020 Fashion Guide
As you'll see, coronavirus has created product shifts in the women's market.
Emotional Dressing
We are less about strutting around for attention and more about wearing something that brings us joy, like pieces that focus on individuality and self-expression. This also includes items that make us feel playful, like headbands and hair clips. The colors are fun and make us feel happy.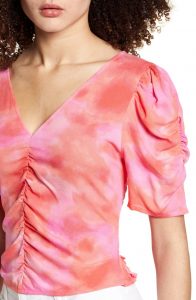 Electric colors are a big mood lifter. From chartreuse to tie-dye anything, bright is big!
Volume is big, too, as seen in puffed-sleeve blouses and tiered dresses. We are going to the opposite of the lounge wear we have been wearing at home day after day after day….
Combining pink and orange is fun and gives us each a chance to complement our color palette with a color we would typically not wear.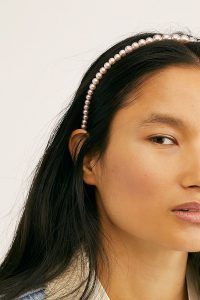 Functional and Flexible
Purpose and functionality—it makes us feel safe and prepared, and less anxious. We also want timeless designs that will last longer.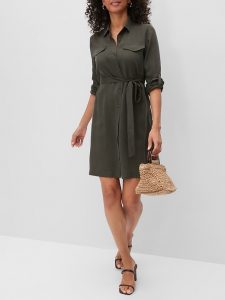 This is being seen in:
Shirt dresses
Safari details with large patch pockets, buckles, and zippers
Cargo pants and cargo shorts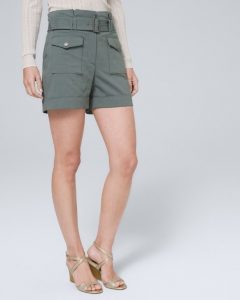 Vacation Inspiration
Before COVID-19, fashions were shifting toward products intended for vacations, and designs that could actually inspire consumers to book a trip. Unfortunately, many of us had to halt our travel plans when a getaway from our tired surroundings would have done so many of us good! The solution is to wear clothes that make us feel like we're in a beautiful tropical paradise: beach-to-street styling and bold prints that give that feeling of adventure.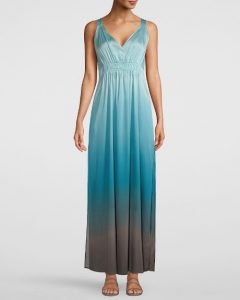 Summer handbags made of straw, crochet, or woven materials
Maxi dresses that lengthen silhouettes and move in the wind
High-waisted Bermuda shorts
Bucket hats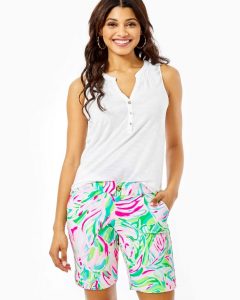 Color Influence
Color always has a strong psychological influence on us, but it is even more powerful in this COVID-19 time. Color is being used this summer to renew spirits and motivate shoppers to feel better and buy.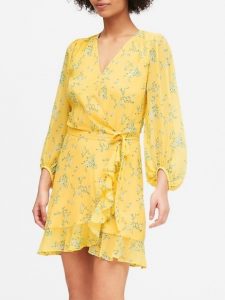 Soft pastel colors provide a comfy, healing, and recharged energy. We are seeing butter yellow, which has been described as a "warm hug." Also in the mix are lavender, light pink, and baby blue. Mix these soft colors with a neutral and it will make you feel oh so comforted.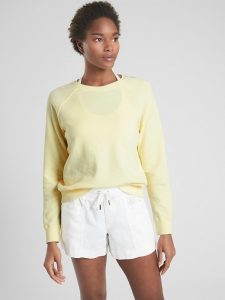 Men's Summer 2020 Fashion Guide
Summer and fashion don't always go hand in hand for men, which can present some tricky challenges! Many men associate summer styles with the preppy look of pink shorts, polos, and top-siders. And while it definitely has the spirit of comfort, preppy does not have the monopoly on warm-weather looks. Whether you want edgy, athletic, rugged, or anything in between, here are the tips to help you look and feel your best this summer.
Shorts
The soft, comfortable, and recharging energy of pastels is hot, and we still enjoy patterns, but you also can't go wrong with khaki, black, navy, or white. A pair of athletic shorts, be it mesh or sweat, is an easy option when the situation is casual. Athleisure is a legitimate fashion style these days, so don't feel like they can only be worn with tees and tanks! But as with all shorts, avoid overly baggy and long choices—just above the knee is always a solid bet.
Shirts
Patterned short sleeves are very in fashion right now, so get creative! Things to avoid are bowling shirts and Hawaiian shirts (sorry all you Tommy Bahama lovers), but remember, "no Hawaiian" definitely does not mean "no floral," especially with those tropical vacation-style prints so current.
When it comes to styling, summer shirts should be light but not see through. Invest in some T-shirts with a little more substance than the 5-pack at Costco. Keep designs simple and avoid anything with inappropriate graphics or jokes. When the situation calls for something dressier, you have three options: polos, short-sleeve button-ups, and long-sleeve button-ups. Short sleeves should end about halfway between the armpit and elbow: mid-bicep.
Pants
When the sun drops down, it's time to exchange shorts for pants. Lighter shades of jeans are great for summer (just no acid wash!), and for those dressier situations, dark-wash or black jeans are old standbys when paired with a summery light- or bright-colored shirt.
The lightweight material of chinos were made for summer weather, and with so many color options, it's time to bust out of the khaki rut. Olive, gray, blue—it's all great! Paige (and other designers) make a lightweight denim pant that is not as cool as chinos, but does offer another comfortable option.
Shoes
Summer shoes like Vans or boat shoes can go with just about anything, just keep the colors subtle this season. White is always appropriate while still giving a bit of a pop, and is versatile enough to work with most any summer outfit. That doesn't mean sneakers have to be boring! Black and white are easy colors that work, but a sleek pair of low-profile sneakers in any color can work, and add an amazing flair to any summer ensemble when done right.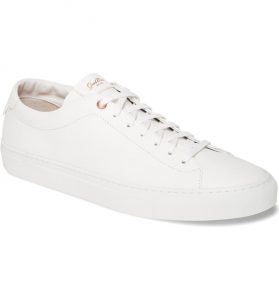 A word about socks: Mid-calf socks can be worn proudly this summer! Expect to see plenty of black or white mid-calves, but gray is also an acceptable option. (Please note, the mid-calf look is typically worn by younger men or a true fashionista! If you're not comfortable in either category, go with a good no-show sock.)