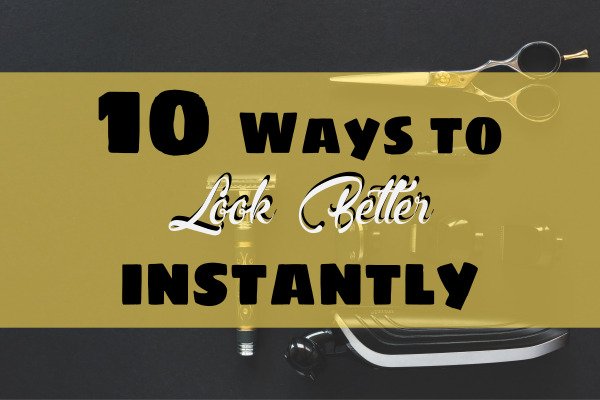 Instant gratification is an alluring phenomenon. I used to love makeover shows, but I was always slightly disappointed when each episode ended. Unless I had their massive team of professionals, there was no way I could look any different. There was certainly no easy way for me to look better instantly.
I was already doing most of the big stuff: regular haircuts and styling and flattering makeup, but some of the smaller stuff had fallen through the cracks. So I wasn't really doing everything I could to elevate my appearance. I had also fallen into a rut of thinking, "This or that worked five years ago, it must still work for me today." This can be a dangerous philosophy to let creep into your thought process!
Fortunately, I've learned through the years, and that's why I compiled this list of the little things: small changes that deliver instant results. I'm excited to share them with you!
10 Tips to Look Better Instantly
Moisturize lips and smile
When someone genuinely smiles at you, they simply look better to you. This said, I know when I smile, my face gets all crinkled up. A little tip that models use: press your tongue against your front teeth when you smile. You will still be genuine, but better! Moisturizing your lips is also key to an instantly better smile. This is particularly important for MEN. Kiehl's has a great no-shine formula called Facial Fuel No-Shine Moisturizing Lip Balm that is great for men and women.
Whiten your teeth
Truly nothing makes you look better and more approachable than a bright, healthy smile. Bottom line, yellow teeth are aging! The good news is, teeth are so easy to fix whether you decide to use an at-home whitening system or go to your dentist for a whitening treatment. Cool-colored ladies also have the option to use lipstick to give the illusion of whiter teeth. Try cool, blue-based lip colors (cherry, raspberry, wine) instead of warm tones (coral, bronze, peach) to counteract any yellow in your teeth.
Lose the baggy clothes
Much too many women think they are bigger than they actually are, so they try to hide behind long, baggy tees, blouses, and slouchy sweatshirts. Little do they realize this actually makes them look bigger! So next time you're shopping, try the smaller size. Does it work as well if not better? Clothes that don't fit are unflattering, unattractive, and most of all, aging.
Men wear their clothes too big, too. Show off those biceps—your sleeves do not have to drop down to your elbows! Also, a baggy rear is not flattering on anyone. Too small is not good, but too big can be worse. Wear clothes that fit.
Grow or cut your hair
Some women think they have to chop their off when they get older, and some women still have the same long, straight hair from high school 25 years ago. Think, the number of compliments you've received on your hairstyle in the last 12 months will tell you how many compliments you're going to get about your hair in the next 12 months. So if you're not happy with that number, try something different! If your hair has always been short, grow it out. If your hair has always been long, cut it a bit—even a few inches can make a big difference. Bangs are another grand addition: Reese Witherspoon showed up at the Golden Globes after her divorce with bangs!
For men, introducing volume and/or texture to your hair makes an instant difference, whether you have a lot of hair or if your hair is getting thin. Adding texture with a sea-salt spray or a putty or clay-type hair product will produce amazing results. Find a great stylist who is current—and have fun!
Buy a current pair of sneakers
Trainers are trendy right now, and just the thing for vacation exploring. Of course I'm not talking about your worn-out running shoes. Make them count, and make them current! This way, they'll look like an intentional part of your look and not like you are just trying to be comfortable. Adidas Originals Stan Smith Sneakers is a classic choice.
Get a manicure
For men and women both, people notice nails and hands, and if yours look good, your attractiveness goes up 32 percent. (Strange but true!) To get there, your cuticles, nails, and hands will need daily moisturizing and semi-monthly maintenance. For those of you who paint your nails, many chic, wearable manicure ideas are more current than a French manicure. Classic red, coral, or sheer pink (ballet slipper: an all-time favorite) nails are always chic. A classic white nail goes with everything and is perfect for any season. Periwinkle blue to sun yellow are fun shades to show your creative flair!
Groom your facial hair
Your facial hair needs boundaries. (No neck beard is ever attractive!) So keep it under control, and remember that cheek hair should also be trimmed for your best look. Plus great grooming shows attention to detail.
Pick a fresh new lip color
If a too-dark or too-matte lipstick can age you, but a nude, washed-out lip can age you too, what should you choose? Try a hydrating color with a hint of sheen in a flattering mid-toned shade for your skin tone. Whether you prefer the neutrality of lip gloss or the pop of a bolder shade, make sure the color complements your skin tone and brightens your complexion.
Curl and darken your lashes
If your eyelashes are straight like most of ours are, make sure they aren't calling attention to any dark undereye circles. First curl your lashes with a high-quality lash curler, such as Kevyn Aucoin Professional Eyelash Curler, then apply two coats of a thickening and lengthening mascara to your upper eyelashes and none to your bottom lashes. Instead, use a thin eyeshadow brush to just barely cover your bottom lash line with dark eyeshadow. This draws focus to your top lashes and gives you an instant mini eyelift.
Toss the boring bag
Your bag should be a beautiful, quality statement piece. A bag you carry every day should not be boring, frumpy, or dated, because that will bring down your whole outfit—and you with it. For affordable but stylish options, look to lines like Rebecca Minkoff, Kate Spade, Street Level, and Tory Burch. For an investment piece, choose a black or camel bag in a strong, elegant shape with minimal detail and hardware. A satchel style with a structured shape will always look best against your body type. If a smaller bag is more your style, crossbody bags are another great choice.
In Conclusion
These small changes today will lead to a brighter, fresher, more stylish, and more confident you tomorrow. Which changes will you make?