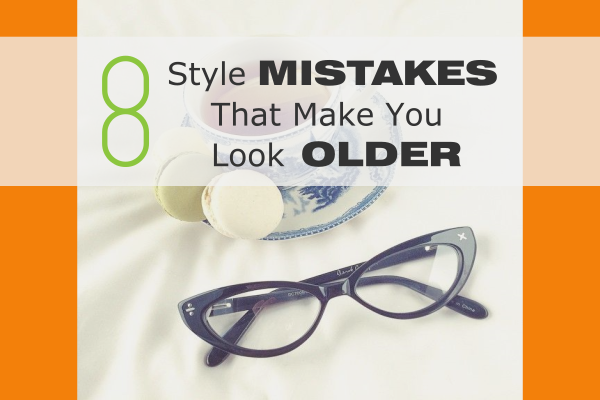 What do you want your style choices to say about you? I can't imagine many of you would say "older"! Yet so many of us make this mistake in our daily style choices. Your clothing, hairstyle, and makeup all work together to communicate your personal brand. And in this society of ageism, we all want to be relevant, which translates to "current." The good news is, you can steer your personal brand to communicate just that, especially if you stay away from choices that age you.
These 8 top fashion and beauty tips will ensure your personal brand stays vibrant:
Gray hair. I hope I don't get in trouble from those who have chosen gray hair, but silver fox or not, gray hair will make you look older. Better options than going gray in middle age? Colors that flatter your skin tone, or blond highlights to blend in the gray. Men, you will look younger by rocking a great haircut with your gray hair. (Yes, the double standard is not fair!) Dyeing hair is rarely a good idea for men.
Colors that wash you out. Nobody says, "I want to look pale and sallow today!" But the wrong hue will drain your face of the color that makes you so vibrant. And everyone's best colors are different—a Color Analysis might show you look great in orange or purple! Read a personal account of a Color Analysis here.
Ill-fitting jeans. Ladies, do you remember "mom jeans"—those high-waisted peg-leg pants from the 80s and 90s? If you do, they won't be a youthful or flattering choice for you now (even if brands like Zara and Topshop are bringing them back to the runway). For men, the same methodology is true: any ill-fitting, baggy jeans are going to make you look older. Men and women alike can try wearing a pair of Paige jeans, which are comfortable and flattering and current!
Reading glasses. Who had reading glasses perched on the end of their nose? That super-strict librarian from your elementary school, that's who. Reading glasses don't make anyone look younger when they're perched down on your nose! If you need them, a fresh eyeglasses brand like Warby Parker can help you update your look.
"Comfort" shoes. As someone who has had two foot surgeries, I completely understand and encourage wanting comfortable shoes. But people can easily add ten years on their look by wearing those super-thick rubber-soled shoes! The key is to find the styles that are comfortable and still cute, which isn't always easy. Look for options from AGL, Cole Haan, Ecco, VANELi, and Sofft.
Cardigans. Although it seems like an ideal layering piece, many cardigans are unflattering—and in fact look sloppy—because they lack shape and structure. A better choice for you ladies? A great, structured jacket or blazer won't make you look matronly and will offset anything in the middle that you might want to camouflage. And for you gentlemen? A fitted cardigan with a crew-neck T-shirt underneath can be a great look. Just remember the "fitted" (if that works with your body proportion), or you'll look like you borrowed your grandpa's sweater!
An outdated watch. Your watch can say a lot about your personality—first, that you opt to wear one! Breitling, Rolex, and Apple watches will all communicate different messages. One message you don't want to communicate: "I'm out of date," by wearing a slender, undersize watch in this time of popular oversize watches.
Athletic sneakers with anything other than workout clothes. Today it is actually very on trend to wear retro styles of sneakers with everything from a suit to jeans. This being said, there is a certain way to pull off this look, and it is never with athletic sneakers. Great sneakers to pair with non-workout clothing: adidas Stan Smith, Converse Chuck Taylor All Star, and Vans. And remember, socks should always be low-cut styling.
Whether too old or too young, a "not quite right" image can stand in the way of your personal growth. From interns to business executives, students to entrepreneurs, even stay-at-home moms or mothers returning to work—polish your image to achieve your best results. Create the strategic image that is part of your winning personal brand!