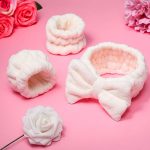 3-Piece Spa & Face-Wash Set – Do you hate when you are washing your face and the water runs down your hands and up to your elbows? Problem solved with these wrist bands, which prevent liquids from spreading down your arms. This product has made my evening face-washing experience 100 percent better! It also comes with an absorbant headband to keep hair out of your face.
Available at Amazon – $8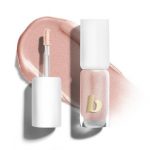 Beautycounter Lid Glow Cream Shadow – NEW! – Lid Glow Cream Shadow offers one-swipe color that instantly illuminates lids and, thanks to a buildable formula, can also deliver a bolder look. Even better, it's infused with hard-working, soothing ingredients that care for the delicate skin around your eyes. It's the ideal one-and-done product to revolutionize your makeup routine! Luster, Aura, and Gleam are the sheerest shades that act as brighteners: their formulas include light-catching micas that give off a glowy, satiny sheen in rose gold, white gold, and soft beige shades. If you wake up feeling a bit blah, a wash of one of these shades over the entire lid acts as an instant eye awakener. Or apply one of the brightening shades in the inner corners of your eyes and at the brow bones, alone or along with another Lid Glow shade, for a subtle, concentrated glow.
Available at Beautycounter – $24.
Questions about this or any other of my favorite Beautycounter products? Get in touch!