Loving Tan Bronze Shimmer – This is not a self-tanner! It is an innovative, versatile cream that instantly enhances, illuminates, and bronzes skin for the perfect glow. Wear it on its own to deepen your natural skin tone (works best for light to medium skin tones), or over your tan for the ultimate luminous bronze finish that leaves your skin silky and radiant. Plus it washes off with soap and water!
Available at Ulta – $33.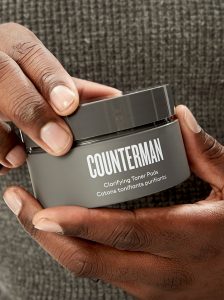 CounterMAN Toner Pads – These quick and convenient toner pads are great after the gym to quickly clean your face (and back), or as part of your regular skin-care regimen. Men say their skin feels smoother, firmer, and more hydrated, and that their pores appear smaller! Featuring Sequoia Stem Cell Complex, and formulated with a blend of witch hazel and green tea extract, these invigorating pads help protect skin from everyday environmental stress. Bergamot and vetiver essential oils lend a fresh, woodsy scent inspired by the Sequoia tree.
Available at Beautycounter – $36.
Questions about this or any other of my favorite Beautycounter products? Get in touch!