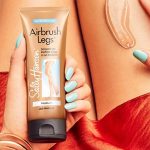 Sally Hansen Airbrush Legs – I have always recommendeded self-tanners for the legs, but I realize they are not always the best solution (for instance, if you are trying to blur out or hide freckles, self-tanners will only make them darker). So for you friends looking to cover freckles, veins, or other unevenness, I set out to find the best leg makeup out there. Let me tell you, there are a lot, and they vary in price from $11 to $50! And while no product is perfect, but this one is pretty darn good. It is lightweight, transfer and water resistant, and comes in five shades to match any skin tone with a fresh and natural look all day. Best applied with a body brush.
Available at Amazon – $12.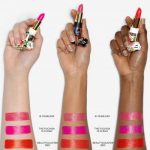 Give 'Em Lip Color Intense Lipstick (Limited Edition) – Three limited-edition lipsticks. One major statement. Creamy, long-wearing formula in colors that are definitely not dull! Plus I love this special packaging, which is bold art in a paper tube that's better for our environment. Great to wear when you don't have on much makeup and it can all be about your lips!
Available at Beautycounter – $34.
Questions about this or any other of my favorite Beautycounter products? Get in touch!