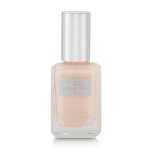 Karma Organic Spa Nail Polish – Shh, here's a secret—I'm allergic to traditional nail polish! The culprit is the formaldehyde, which is in most regular polishes. So I started searching for a polish that would not ruin my nails. Hooray, I found Karma Organic, which stays on great and actually helps my nail health. Karma Organic polishes are free of TPHP, and contain no toluene, formaldehyde, or DBP, making them safe for pregnant women, children, cancer patients, and allergy sufferers like me. And as I'm a big proponent of healthy beauty products, these polishes do not have a harsh odor, and avoid harmful chemicals that remain in your body (unlike traditional polishes). My manicurist likes the quality of these polishes so much, she is going to start using them on all her clients.
Now for the fun part, the nail polish is available in over 100 colors, including matte, glossy, and glow-in-the-dark shades. You're sure to find the perfect color to complement any outfit and skin tone. I'm currently loving the neutral shade, "Bride to Be"!
Available at Karma Organic Spa – $10.
Beautycounter *New* Velvet Eyeshadow Palette – Beautycounter's new eyeshadow formula is specially designed for rich color payoff and long-wearing performance, without the questionable ingredients. It's triple-milled to a precise, silky smooth consistency and formulated with Butterpowder—an ingredient that boosts pigment and long-wear, so it lays down evenly and blends seamlessly. In this color palette, sundrenched nudes and neutrals come together in matte and satin finishes, including a sparkling topper shade to take your look from day to night.
Choose the palette that's right for your skin tone:
Available at Beautycounter – $50.
Questions about this or any other of my favorite Beautycounter products? Get in touch!