Charity Tea season is upon us. As author and professor Grace Margaret Morton put it in 1943, "So when the mood of today's hats seem frivolous it may be a kind of singing in the dark, the expression of an effort to put a bit of gaiety into a world burdened with problems." I feel this holds true today.
(Hat at left by Louise Green from her Spring 2012 Collections.)
Consider the "total effect" when selecting a hat. Look at yourself close up to make sure the hat is flattering to the face. You may want a bit more brim if you have a bit more width in your face. How does it work with your hair? Do you have a fuller style or something close to your head or pulled back? Bangs or no bangs? You should also look at yourself in a full length mirror, as most people will see your figure standing. You should also keep your body size in mind. A huge hat can overpower a small framed wearer, just as a tiny doll hat might look silly on a queen-sized lady.
If you are wearing a jacket or cape, make sure the hat works with it and also without it. If possible, wear what you'll be wearing with the hat while shopping for the hat.
Consider the mood of your ensemble when selecting a hat. A tweedy sports hat would not be appropriate to wear with a dressy, sassy cocktail dress. A dressy flowered hat would look odd with a slacks outfit. The hat should give a sense of completeness to the ensemble. A hat should capture the mood and character of both the wearer and the garment with which it is worn and not look like an afterthought or distraction.
You should also think of the season. Straw hats are most appropriate for spring and summer. Faux fur is worn in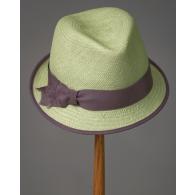 the fall and winter. Velvet is generally worn in the cooler months, but it is nice to trim a summer hat with a touch of velvet. Felt hats are worn all year, with heavier weights and dark colors for fall, and lightweight felt in pastels for spring and summer.
But probably most importantly, choosing a hat is a matter of personality. A hat can express many things – boldness or shyness, sophistication or femininity, drama or daintiness. A hat can do much for the wearer; it can transform a schoolgirl into a woman, or make a woman of a certain age seem timeless. The rest is up to the wearer.
A few notable resources for unique hats: