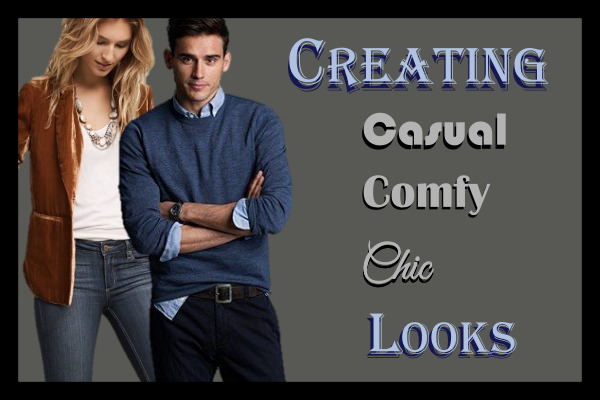 Dress codes, whether dictated by work or a party invitation, can be hard to interpret. Most people are comfortable with "casual" dress and "professional" dress, but I have found that "dressy casual" or "casual chic" is still an enigma for most people. I have client after client say, "I have my workout clothes and my professional clothes, but I have nothing in the middle to wear." Those of us who are retired or working from home want something to wear that is comfortable and also looks put-together when we run errands or meet a friend for lunch. That look is dressy casual/casual chic! So the million-dollar question is, What does casual, comfy, and chic look like?
Dressy casual/casual chic looks stylish and laid-back without looking too "done up." On the scale of appropriateness, it's between hanging out at the opera and hanging out at Costco, so you wouldn't want to wear it when the dress code calls for cocktail or semi-formal attire. It never hurts to look nicer than average, but it does hurt to be underdressed for a formal or professional event! So then how can you put together this mystical look that balances comfortable with pulled together?
Tips for Creating Casual, Comfy, and Chic Looks for Men and Women
Three Key Principles for Your Dressy Casual Look
The key to "dressy casual" or "casual chic" attire is to mix a dressy piece (tailored slack or blazer) with an informal piece (jeans or a denim jacket).
Standard grooming, such as clean hair and nails, is a given. You can forgo the red nail polish, extra time straightening or curling your hair, or getting the perfect shave (a little scruff can be OK in many situations). For men, a good haircut can go a long way with just a bit of control paste applied. For women, a sleek ponytail, loose bun, half up, or all down are perfect.
Makeup can be minimal. A little can go a long way! BB creams or a tinted moisturizer will even out your skin tone, make your skin glow, and provide moisture and sun protection. A touch of blush, a little mascara to make your eyes pop, and a tinted lip gloss—5 minutes and you are ready!
Key Pieces for a Dressy Casual/Casual Chic Look
These pieces work great for dressy casual/casual chic when paired correctly, again following that formal plus casual pairing, or mixing media (different material make-up of your clothes).
MEN: Tips to Dress Casual and Chic
Pants
Commuter pants. The comfort of workout pants but the stretch of athletic wear! Commuter pants resemble suit pants with their pleating and sophisticated fabric finish; however, as their name suggests, they're also made with stretch fabric and intended for active lifestyles.
Chinos. These are slim silhouette, tight weave, cotton, with a smooth finish. These pants are not suitable for professional offices, but they can be worn to nice dinners when appropriately styled.
Darker wash jean. A dark, even-tone, denim jean is a staple. Just leave the torn jeans for other styles of dressing.
Shirts
Knit sweater. Try wool or cashmere, pullover style. Mock or turtleneck will bring a next level of elegance.

Collared button-down. A chambray (more casual fabric than a dress shirt) is a classic, and offers the structure of a dress shirt while providing a casual feel with the button-down styling.
Polo. These are a traditional standard, being both sporty and preppy. The collar provides structure and the fit is structured, so don't wear it too big!
Shoes
Sneakers. Workout shoes are a no-no; a retro-style tennis shoe in white, gray, black, or navy works best.

Suede derbies. These are a less formal version of Oxford dress shoes. The brushed leather material is perfect for dressy casual/casual chic.

Chukka boots. These come with several styling options. The "plain toe, rubber crepe sole with two eyelets" styling make this boot more casual than other styles with a cap-toe or wingtip perforations and a hard sole.

Chelsea boots. Laceless (slip-on) boots in suede or leather work great.
Second Layer or Jackets
Shawl neck cardigan. This style of sweater is so comfortable but elegant. It will keep you warm without going to Patagonia or Northface sportswear.

Bomber jacket. Truly one of the most versatile jackets, comfortable, and on trend. Key styling features are the zip-up front and banded collar. Bomber jackets come in an array of fabric options and colors—leather is one of the most popular, but try many other lighter weight options.
Unstructured blazer. This styling has no shoulder pads and a slightly looser fit, but the lapels and overall formal design make it clean and sophisticated. The natural fit makes it far less stiff than office wear.
WOMEN: Tips to Dress Casual and Chic
The best place to start is to shop in your closet. I suggest selecting your favorite clothing items you would wear to work or church (you get the idea), and those favorites you would wear on the weekend. Now you have both casual and chic items identified, you can start mixing and making new dressy casual/casual chic outfits, always keeping in mind your personal brand.
For example:
Pair your beloved velvet blazer with a white T-shirt, a pair of jeans, and some cute flats, wedges, or booties.

If you want to feel ultra-feminine on your date, and you enjoy wearing skirts and dresses, wear your favorite informal dress with a jean jacket. You could also try pairing a favorite casual skirt with a graphic T-shirt, some wedges, and fun jewelry.
Contrasting fabrics are also key to accomplishing this look. I love pairing a sequined or beaded top with jeans and casual flats or sneakers.
When it comes to tops and shoes, most anything can be adapted to dressy casual/casual chic. But here is some advice on pairing your other pieces.
Dresses
Feminine flowy dress. This loosely flowing style is super comfortable and you can draw attention to your waistline with a belt and/or a short denim jacket. Shoes can vary from sneakers to a wedge or a chunky heel.

Sweater dress. There are endless opportunities to change up the look of this basic piece with accessories and jackets. My favorite is a tied-up white blouse, for a crisp look.
Sheath. This classic, close-fitting style is a great backdrop for a fun jacket, patterned shoe, and accessory.
Bottoms
Jeans. Jeans are the number-one element to have in your closet. Ensure they fit great, and that you ideally have both a dark and a distressed pair (but with limited holes and tears). Skinny or straight styles and a boyfriend variety are first choices. The looser fitting boyfriend style is great with a crisp, tucked-in blouse or more structured top.

Pants. The list is endless, from wide leg to utility/cargo to classic trousers to jogger sytles. The key is to select well-fitting styles for your body proportion.
Leggings. Spanx leggings in faux leather or denim (they even have white for summer) are great, or any thicker knit leggings. These should not be mistaken for tights. Wear a long sweater, jacket, or top over leggings to cover your rear and provide a more dramatic look. Duster (3/4-length) sweaters work great here!
Skirts. Skirt options are again endless, and length is totally based on your preference and how much leg you like to show.
Bonus Considerations
For a long-lasting, more upscale look, spend the money for a few key pieces in quality fabric. Zara, J Crew, Banana Republic, Nordstrom, and Athleta are all good options.
Baggy-all-over outfits are banned! You need to show fit somewhere for definition, even if it's just a bit of fit under your bosom or in your lower legs.
Stylish and comfortable shoes—not just plain and boring—go a long way toward adding the "chic" element to your dressy casual/casual chic looks. I dress my 86-year-old mom in the most stylish sneakers ever! If she is wearing a silver top, she has on silver tennis shoes to match. The days of having to wear old-man or matronly shoes are gone. Heck, practically every trendsetter out there has a pair of Adidas Superstar Sneakers and looks great!
Add a splash of color with a scarf, shoe, or a fun accessory. I recently bought a basic cotton jumpsuit in olive green and wore it with a green camouflage-print short scarf at my neck, paired with white tennis shoes and a white denim jacket. Super cute! Other fun accessories include hats, sunglasses, and purses or totes. Always add at least one or two accessories to make the outfit pop! Men: Add a novelty lapel pin, fun socks, pocket square, watch, or scarf.
Presto! You have achieved a casual and put-together look.