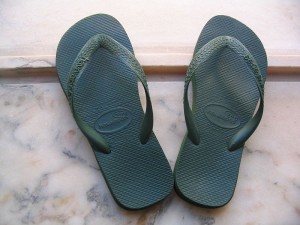 Summer is arriving, and with it, warm weather and breezier, more causal workplace clothing. Keep your image in tact throughout these sunny months with these tips for your summer workplace wardrobe:
Tips For Your Summer Workplace Wardrobe
Just say no to flip-flops – men and women. Nearly bare feet at the office are a big no, even with the most amazing pedicure money can buy.
Guys,

leave the Señor Frog's T-shirt you wore in college in your closet

. Unless you work for a t-shirt business, spruce it up a little. I suggest golf-style polo/collared shirts. They are comfortable, and look much more polished.
A little shine and embellishment is fine for the office

. But, a little goes a long way. Keep head to toe glitter and glam for evenings.
A cap-sleeve or sleeveless top is fine

. Peek-a-boo bra straps, spaghetti straps, or NO straps give away more information than you want. When in doubt, cover it up.
Dress for fit not for the size printed on the tag

. Very few things cross

the line from casual to sloppy like ill-fitting clothes.
These quick tips should get you through your summer workdays in comfortable, image-preserving style.
Similar Posts