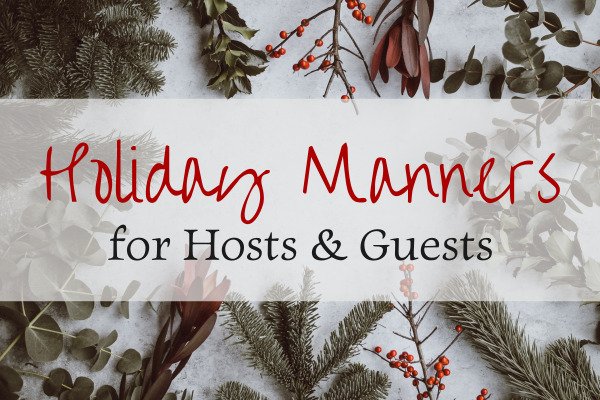 The holiday season is officially here, and with the holidays comes a lot of joy, tradition, family dynamics, and—if we are being honest—frustrations. For some, family dynamics can cause friction, and for others, they wish they had family. In an effort to make everyone's holidays as joyful as possible, here are five manners for hosts and five manners for guests on Christmas Day, which I hope will help you avoid friction and pump up the joy factor this holiday season. When put into practice, if you're having a great Christmas, they'll help ensure that others do, too! And if your inner Grinch is about to take over, they will help you not give in to the pressure!
Top 5 Manners for Hosts on Christmas Day
When you agree to host Christmas festivities at your home, you're doing more than saying, "Come over and join our Christmas"—you're creating Christmas for your guests, too. Find out what's going to make their Christmas memorable, and then do your best to make it happen. This doesn't mean shelving all your Christmas traditions for your guests'; add some of their traditions to yours and come up with a new Christmas tradition for the day. Here's how.
Ask and share
When you invite someone to spend Christmas with you, ask about their Christmas traditions and share about your own. This might mean you make the invitation in person, by phone call or text, or through a mailed invitation with a return card that asks them about their traditions. (Think like a wedding RSVP with a "song requests" field.) Remember, just because they're coming to your house doesn't mean it's your way or the highway.
Set the tone in the home
If you are not comfortable, no one will be, so plan an event you can handle and enjoy. If you are not a cook, bring in food or host a potluck. If décor is not your thing, use paper plates instead of china. If you are worried about spills, entertain outside. Set yourself up for ease and success so you can enjoy the festivities, too! Easier said than done, but expect everything will not go according to plan, and then don't sweat it when it doesn't.
Ask for help
Most people like to lend a hand. They're going to feel bad watching you work nonstop, so plan ahead and do all you can beforehand to minimize your day-of duties. (This is your Christmas, too!) As soon as you feel tension creeping in, ask for help with entertaining the children, picking up Christmas wrap, sorting presents, stirring gravy, pouring drinks, or setting the table.
Make a seating plan
If there's more than one table for the main meal, the hosts should sit at separate tables. (No one wants to feel like they're at the adult version of the kids' table!) If there are more than two adult tables, the hosts can excuse themselves about halfway through the meal to check on the other guests. Don't forget to keep the kids busy, since they'll finish a lot sooner: coloring pages, games, crafts, or even a Christmas cartoon are great choices.
Give a gift to every attendee
If presents will be opened, everyone needs something to unwrap. This is a great time to organize a group gift exchange! But if a group exchange isn't on the agenda, the hosts should have a small gift ready for each person, even your cousin's new boyfriend who probably won't last through Valentine's Day. Get ready to open your own gifts by learning how to open any gift with authentic grace.
Top 5 Manners for Guests on Christmas Day
When we accept an invitation to join someone on Christmas Day, we give up the right to be in charge. Be lovely for the other guests by being the best version of yourself; be alert to any pressure points of the hosts or other guests, and then step in to relieve them before they feel overwhelmed. Here's how.
Ask what you can bring
Yes, the hosts might need a casserole of candied yams, but they might also need folding tables, board games, or a Spotify playlist. Ask them what they need and let them know you're happy to bring it.
Be careful sharing about Christmas at your house
Your hosts have gone to a lot of trouble to make a special day for everyone. When it comes to how your family does things differently, you don't want to sound like you're criticizing, so be careful what and how you share. If the conversation turns to favorite Christmas memories or family traditions, share yours, of course!
Don't eat and run
If everyone was expecting you to stay all day and into the evening yet you leave at 3 p.m., it's going to look like you're not having a good time. So if you know or even suspect you won't be able to stay for the whole event, let the hosts know in advance what time you plan to leave. You know your family's limits, so think about them beforehand to determine your staying power. Then when you accept the invitation, simply say something like, "We're happy to be there at 8, but we will need to leave at 3 p.m." (It's considered eating-and-running for you to stay less than one hour after the end of the meal.) If you're all having a great time and end up staying longer, that's fabulous! But this way you can leave without hurt feelings.
Be a helpful guest
Jump in to help at the first sign of struggle. If the kids start to get rowdy, even if they're not yours, redirect them to another activity. If the host is flailing in the kitchen, offer specific help with washing dishes, whisking gravy, or dicing onions. If the party seems to be lagging, break out the phone and start taking photos. That will get everyone smiling!
Bring a host gift
You don't need to bring a gift for anyone you don't know (outside the immediate host family). You do need to bring a gift for the hosts and their children. It can be one gift for the whole family, or one gift for the adults and one for their children, or individual gifts for each. Since the Christmas gift is not a "hostess gift," it would be nice to bring along food or drink goodies, too. As you hand it to the hosts, let them know that they don't need to serve it today.
More Great Holiday Manners
Respect the rules of gift-giving
As a general rule when bringing gifts to a Christmas event, follow the guidelines of holiday gift etiquette. If the party has a white elephant gift exchange with a $25 limit, don't show up with a $10 gift—but also don't spring for a $40 gift. If your party invitation says "no gifts," don't show up with a gift. (Seriously, you'll make the people who followed directions feel terrible.) If you're struggling with money, let the people in your life know you're cutting back on presents this year. And if you're flush with cash, be as generous as you can be, but don't make others uncomfortable with lavish gifts.
Send a thank you note
This is for sure one of the times when a handwritten thank you note will set you apart and show your appreciation for others' time and effort. It is a lot of work to host an event, so they deserve the extra acknowledgment! You don't need to send one to relatives or to friends who are as close as relatives; however, you certainly can if you want, and the hosts would appreciate it!
In Conclusion
Manners are not intended to be prissy or limiting; they help us to be gracious and to remember the golden rule, "Do unto others as you would have them do unto you." These tips can apply to any group event you are invited to during the year, but by keeping these ten manners in mind at Christmas, you will be sure to manage anything Santa throws your way!