Have you ever noticed when the weather gets warmer people can get a little naïve – or said another way people's judgment can become a bit impaired? It certainly makes good sense that when the weather warms up people tend to wear less clothing so they can be comfortable and cool. It seems shirts and blouses become polo's, T-shirts and tank tops; pants become shorts or capris; and shoes become tennis shoes, sandals or flip-flops. All of these are great if they work with your body type, fit properly and are worn at casual events.
When these looks enter the workplace and then continue onto extracurricular events like company picnics and baseball games, it can take some very careful maneuvering. If you learn how to master dressing for warm weather, I guarantee it will be well worth your effort.
We have all seen the obvious spectacles, you know those men who wear a tank top and haven't done a push-up since high school and their tummy shows the enjoyment of lots of delicious food! Or, men and women whose shorts are too short! Or, the woman in the infamous "tube top" that somehow slips down during the egg toss game! These same faux pas also extends to the public venues. I was at Whole Foods last night at a cooking class and a senior-citizen woman attended the class in basically her bathing suit bottoms and a tank top!
We've all heard the theme "dress appropriately at all times", whether you are at work or at the grocery store, or even if it is 100 degrees outside. I am not saying you need to be dressed up. I am also not saying you need to cover-up. I am simply saying select your clothing according to the event and to your figure. Follow these tips and you will be in great shape for all your summer functions – enjoy!
Camouflage Perspiration Wetness. If you know you perspire, wear very light colors (i.e., white or beige) or very dark colors (i.e., black, brown, navy) to camouflage the wetness. You can spray antiperspirant under your breasts if this is a problem area for you. Note: The "Recommends" antiperspirant in this article, it is great! Men can also wear an undershirt, and women can wear a cotton sports bra, to absorb the moisture before it bleeds through the shirt.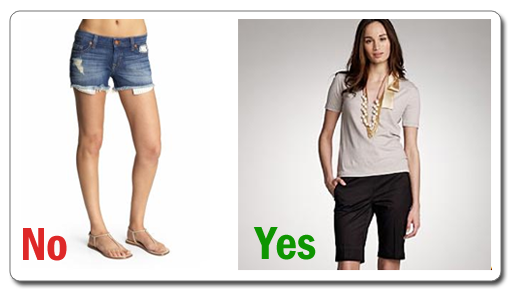 Avoid Short-Shorts! If you don't have the legs for shorts (and even if you do), the length should be around the knee for men. Shorts are trending a bit shorter this year for men, but the rule of thumb is the longer your leg the longer your shorts should be. Age also dictates a bit longer short for more mature men. For women, the trend is definitely short! Although, first evaluate if your legs are your best asset? If they are, select a nice short but the leg should be at least 3″ to 4″ below your thigh. If you are 18 the rules are much more flexible, but still be aware of your venue. Remember, your clothes speak volumes about you. Don't destroy your image over one outdoor event.
Men: Wear Linen Trousers or Khakis, with a soft loafer or deck shoe with no socks. This is a perfect alternative to shorts. You will look so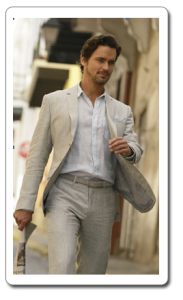 cool no one will even ask you if you're hot!
Women: Wear Cropped Pants or a Skirt – Finding the perfect fit is imperative for cropped pants. Cropped pants should end at the smallest part of the leg – typically 1 to 3 inches above the ankle. If you are on the short or heavy side, wearing full-length pants will be more flattering. Another great option is to wear a skirt. In the summer I dress many of my clients in only dresses and skirts. If you don't like your legs select a skirt that has a flared or fuller hemline and the hem at the middle of your knees. This design will make your legs disappear while allowing you to look oh so cute and stay cool, all at the same time.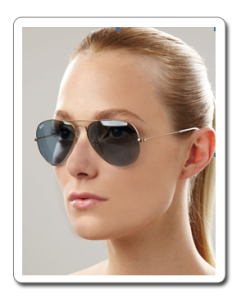 Find Some Shades – Wear a Great Pair of Sunglasses. Sunglasses will help you look and feel cooler by protecting your eyes from the sun. Plus, they communicate a lot about your Personal Brand. Be certain your selected style is current, in your color palette and projects the message you want to send. I see people fall short in this category and they wear outdated or over-the-top styles.
Grooming – Ladies, consider wearing less makeup (this does not mean none). Too much makeup can impede sweating and make you feel hotter. Mineral makeup is an ideal choice for hot weather. Water proof mascara is also ideal to ensure you don't end up with raccoon eyes which can occur when your perspiration makes your mascara run.
Men, hot weather still means a clean shave. Please remember to apply your sunscreen. Many have a slight tint if you want to have a bit more color.
Walk in the Right Shoes. Ladies, sandals or a small wedge are attractive. Men, leather or suede loafers, boat shoes (i.e., Top Siders), and canvas deck styles are great options. Thongs also work for your most casual events. If you select an open sandal, make sure you have a fresh pedicure. Men, feel free to wear low-cut socks with your loafers and show off the exposed-ankle no-sock look.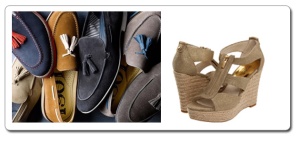 Wearing a pleasing and attractive ensemble will bring you comfort, personal pleasure, and instant confidence. It can also get you a promotion, your next sale, or help you find your mate!