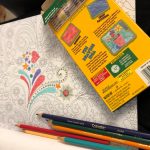 Adult Coloring Book: Stress Relieving Animal Designs – We all have stress. The quest is to manage it so it doesn't impact our health! I am really enjoying this new outlet (hobby) of Adult Coloring Books for Relaxation, as I'm learning to put down my electronics and free my brain to chill and refresh. This adult coloring book has over 50 animal patterns and provides hours of stress relief through creative expression. Colored pencils or gel pens work great (I use both), and it doesn't matter if you draw outside the lines—no one cares!
Available at Amazon – $5.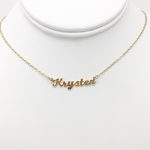 Custom Message Classic Script Necklace – The perfect gift for Mother's Day! Name-plate necklaces are back in style, and some think they never went out! Choose your favorite mom's name, the names of her kids (or yours!), or layer the necklaces. Available in several fonts, lengths, and hardwares—all Mom's favorites.
Available at Ryan Porter – $65–$75.