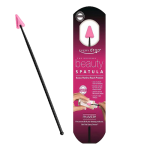 Every Drop Beauty Spatula – My niece shared this product tip with me, and I think it is great! This beauty spatula retrieves all the valuable product that remains trapped in your makeup bottles. It can also be used as an applicator, and is washable and reusable.
Available at Amazon – $6.
Beautycounter Precision Liquid Eyeliner – With its artistic perfection and safer ingredients, this liquid liner is great for creating that bold cat eye that will look so dramatic for that special party, especially with the holidays around the corner! Optimized for easy, precise application, and featuring a rich matte-black formula, this eyeliner is perfect for creating everything from thin, sharp lines to thick, dramatic wings. Plus, its long-wearing formula lasts up to 12 hours!
Available at Beautycounter – $28.
Questions about this or any other of my favorite Beautycounter products? Get in touch!